Don't throw that can out! Give them a new lease on life with some inno­v­a­tive ideas. I was inspired after buy­ing an extra large can of toma­toes from Costco. After the can was empty, it seemed a shame to throw it out. So I put my cre­ative cap on, fol­lowed by some cyber searching.
The obvi­ous, but sim­ple thing to do is use them as pots for plants. It's the per­fect cen­ter­piece for an out­door bistro table.
Take things a step fur­ther and make a host­ess gift using an old can.
What to do:
Clean the can thor­oughly. Poke holes on the bot­tom if you plan on hav­ing it drain your plant. Place your plant or flow­ers in the can. (leave the label on or take it off, both ways have their own unique cool look) Ide­ally I would have put a tomato plant in the can but they're not in sea­son. If you can use a plant that matches the can label, that would be a fun touch.
For your gift tag, get a packet of seeds. Take some paper and write or print out your mes­sage to the host. Get some dou­ble sided tape and adhere it to the seeds. Slide the seeds through the teeth end of a plas­tic fork and insert into the soil of the plant. (if you have sin­gle vin­tage forks lay­ing around, that would be even better)
Other ideas I found
&

 loved:

 
Cork cans by The 3R's Blog.
A kitschy wine rack from Real Sim­ple.
Pen­dent lights from Shel­ter­ness.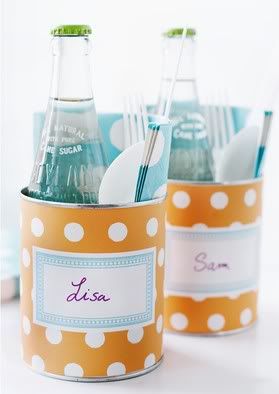 Pic­nic cans found at Sweet Paul Mag­a­zine.
Finally, if you're feel­ing more prac­ti­cal and adven­tur­ous, try build­ing a camp­ing rocket stove from left­over food cans. Learn how at Life­hacker.