Don't throw that can out! Give them a new lease on life with some innovative ideas. I was inspired after buying an extra large can of tomatoes from Costco. After the can was empty, it seemed a shame to throw it out. So I put my creative cap on, followed by some cyber searching.
The obvious, but simple thing to do is use them as pots for plants. It's the perfect centerpiece for an outdoor bistro table.
Take things a step further and make a hostess gift using an old can.
What to do:
Clean the can thoroughly. Poke holes on the bottom if you plan on having it drain your plant. Place your plant or flowers in the can. (leave the label on or take it off, both ways have their own unique cool look) Ideally I would have put a tomato plant in the can but they're not in season. If you can use a plant that matches the can label, that would be a fun touch.
For your gift tag, get a packet of seeds. Take some paper and write or print out your message to the host. Get some double sided tape and adhere it to the seeds. Slide the seeds through the teeth end of a plastic fork and insert into the soil of the plant. (if you have single vintage forks laying around, that would be even better)
Other ideas I found & loved:
Cork cans by The 3R's Blog.
A kitschy wine rack from Real Simple.
Pendent lights from Shelterness.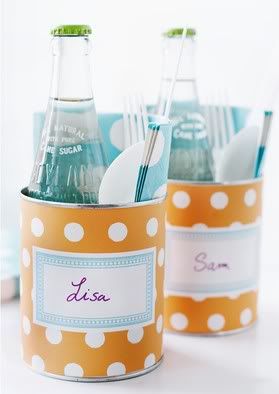 Picnic cans found at Sweet Paul Magazine.
Finally, if you're feeling more practical and adventurous, try building a camping rocket stove from leftover food cans. Learn how at Lifehacker.